NINOS DE CALLE
Ninos de Calle - Street children of Bolivia
Short description of the project
Ninos de Calle is a project funded by the foundation "Amazone Kinderen"
A day of a child in Riberalta normally starts at 6:30 in the morning. They go to town to sell bread, fruit, drinks or to find a place to polish shoes. They have to, because the income of their family is too low to survive. Some, if they are fortunate and if they still have the energy, go to school for a few hours in the afternoon.
But for most of them the school door stays closed.

This is the first project that will be supported by Kye4Kids in cooperation with Stories of Kye. How will it be done? Part of the proceeds the sales of the new chapter book will be donated to the Amazone kinderen foundation.
"The Broken Promise"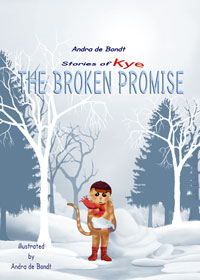 The manuscript is now at the editor for review. Her first reaction:

We tried to self publish the book and started a crowdfunding project to support all costs. We didn't reach our estimated amount .
During the crowdfunding project we made following commitment:
If we would have reached our Crowdfunding target, Kye4Kids would have donated 7,5% of the total sum to this project.
Although we didn't reach our goal we decided to donate a "symbolic" amount to the Bolivian street children project because they deserve a bright future and we like to be a helping hand. On the news page you can read more about it.

Now you might think: "So that's the end of it!" Well ,no!

We don't give up that easily and we still need your support!
The book will be published.
Your donations make it possible for us to have my manuscripts edited and translated and ready to be send to publishers /agents
Our goal is to go for a worldwide distribution. By helping bringing our books to the market you assist in the education of street children in Bolivia; more books we sell the more children we can support in Bolivia.
YOU CAN MAKE THIS HAPPEN!
Support Stories of Kye
IMPORTANT: ANY amount you donate is one step closer for many a dream that gets fulfilled.
The Amazone Children's Foundation supports approximately 500 street children a year. Through distribution of school materials, they give the children a sense of identity , value and belonging! The return on these small gestures is more valuable than gold and these children deserve nothing less. This project for street children in Riberalta aims to get them to school and to keep them from getting into drugs and crime.
Read more about the foundation at: Stichting amazone kinderen
If you wish to remain anonymous, please email us at info@kye4kids.com or info@storiesofkye.com
Contact Details